Bitcoin Video Casino Review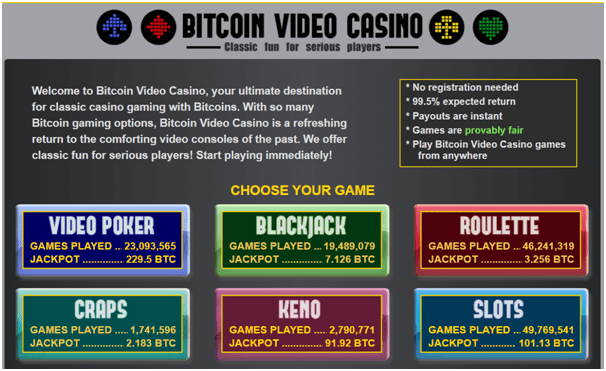 Bitcoin Video Casino is a US friendly casino that uses the crypto-currency BTC. They offer anonymous and instant registration, and feature several popular games. Their game style is inspired by the classic Video Poker machines in Las Vegas. You can play at this casino from your tablet or smartphone at this provably fair gambling site, with the casino Android app too. When you open the site you will find the site claiming to be a provably fair gaming site with 99.5% or better expected return.
Games to enjoy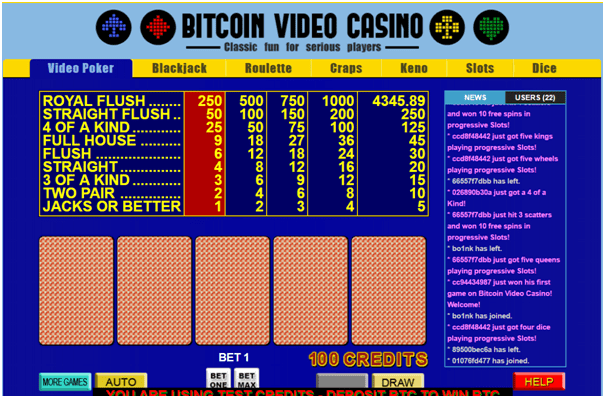 Bitcoin Video casino offers various games like Video Poker, Blackjack, Roulette, Craps, Keno, Slots and Dice. All the casino games and house edge are as follows: Jacks or Better video poker – 0.24%, blackjack – 0.4%, roulette – 0.5%, craps – 0.2%, keno – 0.5%, slots – 0.5%, dice – 0.5%. You simple click on the game you wish to play and get started.
Every player is automatically given an anonymous account when they enter the site. To return to your account, use the unique URL found by clicking the account tab in the leaderboards.
So that shows that casino offer the following advantages:
No registration
At least 99.5% expected return on all games
Get Instant payouts
Huge progressive jackpots to enjoy
Games are provably fair
You can play Bitcoin Video Poker from anywhere
You can try out any of the games using test credits. If you want to play and win Bitcoins, simply send any amount of Bitcoins to the address at the bottom of your screen.
If you are finding trouble to play games then remember all of the games have help pages. Simply click the red HELP button to learn how to play the game.
You can play the games with your web browser or with the Android app. The app currently supports Video Poker, Blackjack and slots, and integrates directly with your mobile Bitcoin wallet. You can download the app by clicking the "Android App" link in the top right side of the page.
Deposits and Withdrawals
The casino do not wait for any confirmations before funding your account. As soon as your deposit transaction is detected on the Bitcoin network, your account will be credited.
You can use any Bitcoin wallet to deposit funds into your account. At the bottom of your screen you will find a horizontal black bar that says "Add credits by sending Bitcoins to XXXXX". Simply send Bitcoins to that address and your account will be credited within a few seconds.
If you hover your mouse cursor over the Bitcoin address, a QR code will pop up which you can scan with your mobile Bitcoin wallet. If you are viewing the site on a mobile phone, tap the Bitcoin address and you will be taken to your associated Bitcoin wallet app.
Same goes for withdrawals. At the bottom of your screen is a horizontal black bar with a button that says "CASH OUT". Click that button, fill out the amount and destination address and click "Withdraw". The withdrawal transaction will be sent to the Bitcoin network in just a few seconds.
In order to withdraw funds, all of your previous deposits must have gotten at least 2 confirmations. This usually takes about 10 or 20 minutes. This is to prevent malicious users from creating fraudulent transactions. A small transaction fee of 0.0001 BTC will be deducted.
Safe and secure transactions
All your transactions at the casino are safe and secure. Bitcoin Video Casino now supports account passwords and two factor authentication (2fa). If you set up an account password, you will be asked to enter this password every time you initally access your account using your unique URL. If you enable 2fa, you will need to enter a code from your smart phone to access your account, and to make withdrawals. From the account tab, you can enable these features. Also to change your user name, click on the red and white profile button. It is located directly below the chat window, to the left of the volume control.
Bonuses and Promotions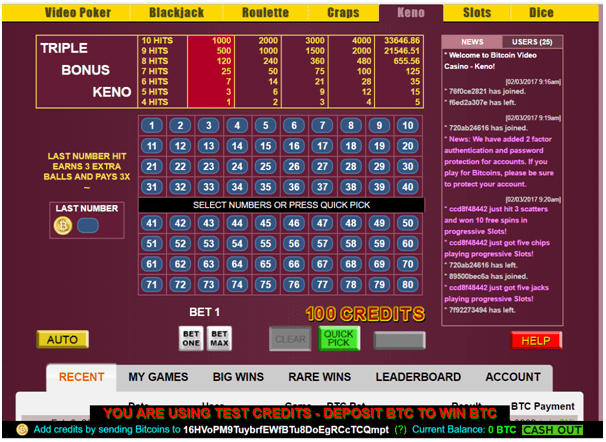 Bitcoin Video Casino does not offer a sign-up bonus but they have a terrific referral program for you to earn btc by recruiting new players. They offer up to 25% of the house edge on your recruits.
To get started, click on the "Referral Program" link found at the footer of any page. On the Referral page you will be given your unique referral link. It should look something like this: https://bitcoinvideocasino.com?R=XXX. When new users click on this referral link, they will enter site with an automatically created account for them. This account will be associated with your account as the parent, and will earn a commision on any games this new player plays.
Also remember that you must bookmark or copy down your Bitcoin Video Casino URL in order to get back into your account, in order to access your referral stats and access your earned Bitcoins.
To withdraw your referral bitcoins into a Bitcoin wallet, simply select "cash out" on the bottom of the page.
Also all games have a progressive jackpot that increases with each game played, regardless of win or lose.
Customer support
In case you have any issue playing at this casino then you can email them at admin@bitcoinvideocasino.com  or use their Bitcoin.com Forum to find answers to your questions and discuss in detail