The cryptocurrency hardware wallet that now can fit into your Cell phone's SIM tray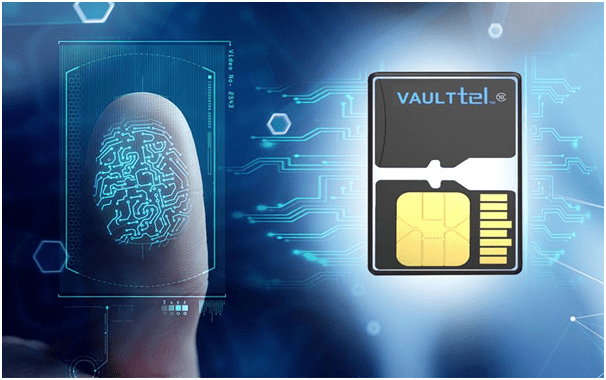 Lately VaultTel an US based startup company launched tiny cryptocurrency hardware wallet for your cell phone's SIM slots. The wallet solution combines an app and the VaultTel Intellichip card to store cryptocurrency private keys on mobile devices, using biometric authentication and "military grade" encryption to keep the funds safe. This means in addition to encryption data storage and biometric authentication, VaultTel allows users to keep their Cryptocurrency safe as well as to use it for day to day transactions.
The card can be placed in the SIM card slot of dual-SIM Android mobile phones, or can be used with a dongle accessory on iPhones.
The key features of this wallet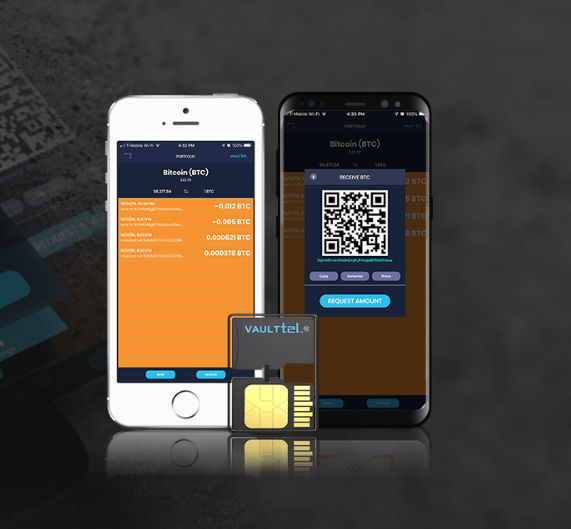 The biometric authentication feature ensures that only the phone's owner can transfer funds from the wallet. Some of the features explained by VaultTel are:
It allows you to lock access to your wallet to a specific device. When a device lock exists on your wallet, you can only access your wallet using a specific device.
Also allows you to lock access to your wallet to a specific geo fence. When a geo lock exists on your wallet, you can only access your wallet from a specific geo fence.
You can have a backup of your wallet electronically via additional VaultTel Chips. You can create one or more wallet backups after you create your wallet.
Without knowing your biometric authentication, no one can transfer your coins from your hardware wallet. More than that, no spy screen recorder or Trojan can record what is happening on your hardware wallet, as it's a not using your laptop or system resources.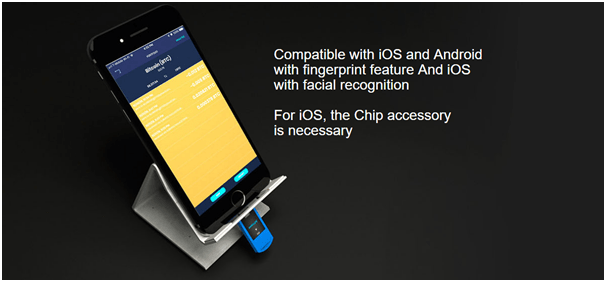 In order to use this app, you need to use our chip and chip accessory/dongle. iPhone users receive a chip accessory/dongle as part of the package. VaultTel uses AES512 to encrypt/decrypt the wallet files stored on your VaultTel Chip. VaultTel is implemented using HD Wallets and a seed that's created with a 24-word mnemonic phrase
How to get VaultTel cryptocurrency hardware wallet?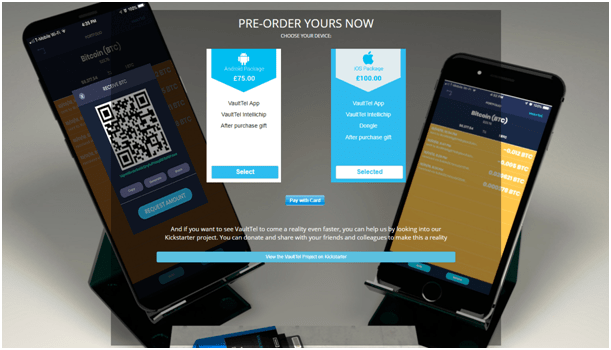 The wallet is available for pre-order with two options: an Android package at a cost of $98 and an iOS package at $131. Click here to place your order now.
Wanna more latest on Cyrptocurrencies then note that Samsung's upcoming flagship device, the Galaxy S10, is to feature a hardware enclave within the phone that is aimed to protect wallets on the device from hacking. Sirin Labs' blockchain phone also features a built-in hardware wallet.If you want to go really small, you can also get a chip that will store crypto keys that can be inserted under your skin. Stay tuned here for more such exciting posts.