Win $10 K in cash at BitStarz Bitcoin friendly Casino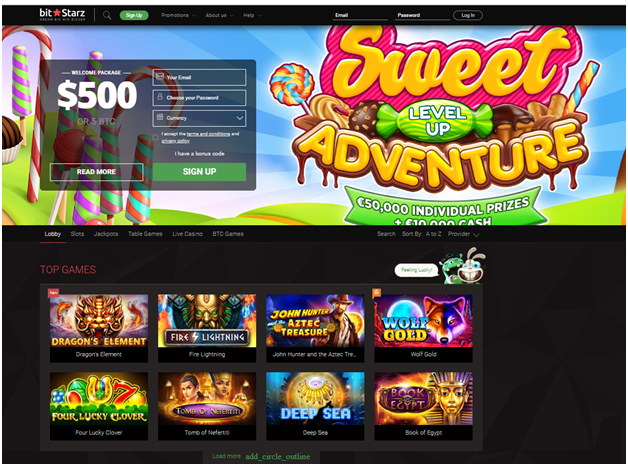 Bitstarz is the best Bitcoin casinos across the globe. Currently Bitstarz is offering a very exciting promotion to win $10 K. This promotion is called the Sweet Level Up Adventure, giving you a chance to win real cash! More like the game of Candy crush this tourney is all about candies and sweets.
How to play Sweet Level up Adventure?
Join Bitstarz casino with your mobile or PC and open your casino account in real time
Play any game at BitStarz.
Reach the next level.
Get a prize credited to your account.
Players have to play games to collect points and level up. There are 40 levels to complete, with the first player reaching level 40 being the winner of the grand prize – $/€10,000 in cash.
Every time you complete a level, you will unlock a portion of the $/€50,000 individual prize pool – which is all in bonuses that carry a wager requirement.
At level 15, there are BitStarz hoodies to be won and at level 25 you can win an anti-theft backpack emblazoned with the BitStarz logo.
However, there are only 10 of each, meaning the first 10 players to reach these levels will win them.
Points to note
The promotion runs from 13:00 CEST May 11, 2020 – 15:00 CEST June 26, 2020.
Only real money bets with no active bonus will count towards the promotion. Any bonus money bets or real money bets with an active bonus will not register.
Minimum risk wagering on table games will not count towards your turnover (including, but not limited to, betting on both red and black at the same time, etc). If this practice is discovered and found to be taking place, the player will be banned from the promotion.
Table games contribute 5% towards the turnover for the promotion.
All slot games contribute 100% towards the turnover for the promotion.
All prizes come with a 10x wagering requirement.
As you wager in the casino, you will reach new levels by reaching a new milestone in the progression bar. As soon as you've filled the bar, you will reach another level. Each successive level and milestone increases in difficulty as you progress through the adventure.
Prizes are credited immediately.
If any physical prizes will be given, players will be contacted by BitStarz to give their address so it can be sent. There will also be cash alternatives provided should such be required.
Physical prizes will be given to the first player(s) reaching predetermined levels within the promotion. These prizes are as follows:
Level 15 – 10 BitStarz Hoodies
Level 25 – 10 Bitstarz Anti-Theft Backpacks
Prizes are issued on a first come, first served basis, once the allotted number of prizes have been claimed for each level, there will be no further prizes issued.
Players with closed accounts prior to receiving a prize will forfeit their reward.
Only the first player reaching the top level of the tournament will receive the prize consisting of $/€10,000 in cash.
Various other offers at Bitstarz
There are hundreds of various other offers at Bitstarz to grab. You can check the latest promo offers by visiting their casino online regularly.
Win a Tesla Model 3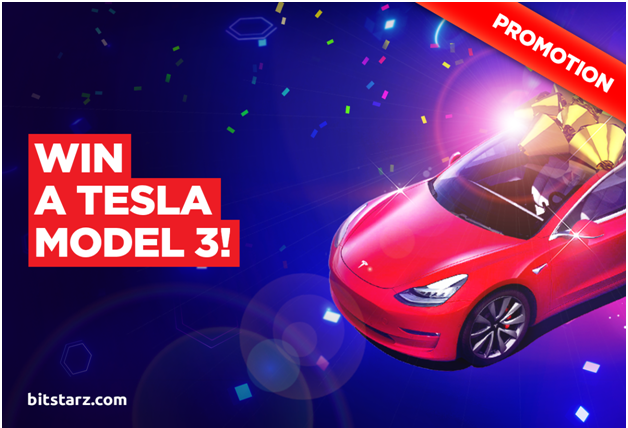 At the time of writing this post the casino was offering players to win a Tesla Model 3 worth $/€45,000.
All you have to do is play your favorite games and collect tickets. Every time you wager $/€100, either in a single wager or cumulative across a number of bets, you will get a ticket into the draw. From then on, it's as easy as 1-2-3. The more tickets you have, the more times your name is in the draw. The more times your name is in the draw, the better your chances are of winning that luxury car.
The epic Tesla Model 3 giveaway started on June 8, and will end at 23:59 CEST on August 11. That gives you a total of 64 days to rack up as many tickets as possible. You've got a whole lot of time on your hands, but don't get complacent – the more tickets you have, the better your chances of winning.
Tips to win the promotion offers at Bitstarz
Bitstarz also suggest various tips to win their tournaments. Bitstarz recommends players to focus on slot games as slots count 100% towards your levelling up progress meter, whereas table games only count 5%. While you can control your wins and losses slightly more in table games, the time it takes you to rack up the same amount of levelling progress will mean slot players are zooming past you.
Next up, you need to pick your slots carefully. High volatility slots are great for big wins and boosting your bankroll, but as they're high volatility, you could be spinning for some time before you see that mega win. So, if you've got a modest bankroll, you might want to try out medium volatility slots in order to get the best balance of wins and losing spins.
Welcome offer at Bitstarz
When you first join the casino as a new player at Bitstarz you are offered 20 free spins as no deposit.
Next make your first deposit of at least $20 OR 0.006 BTC and we'll match it with a 100% bonus up to $100 OR 1 BTC. To keep the fun going, you get 180 FREE SPINS and a choice of 3 popular games to play them on. First 20 are credited right after first deposit, then 20 more 24 hours later. This will go on for 8 straight days until you get a total of 180!
On your second deposit at BitStarz, a 50% bonus up to $100 OR 1 BTC will be instantly credited to your account.
Your third deposit will be rewarded with an instantly credited 50% BONUS up to $200 OR 2 BTC.
Enjoy another 100% bonus on your fourth deposit up to $100 OR 1 BTC, credited instantly to your account!
Currencies to use
Bitstarz allows the following currencies: Euro, US Dollars, Canadian Dollar, Australian Dollar, New Zealand Dollar, Japanese Yen, Renminbi, Polish Złoty, Russian Ruble, Norwegian Krone, Bitcoins, Bitcoin Cash, Ethereum, Dogecoin, Tether and Litecoin.
The minimum deposit with bitcoins is 0.0001 BTC
In case you need any help Bitstarz offers 24.7 help support even through live chat.