Best 10 Bitcoin Exchanges
The popularity of Bitcoin also rises the need for more Bitcoin exchanges or providers as you call them. As you know without Bitcoin exchange you cannot buy and sell bitcoins. Also, these bitcoin service helps you to create a digital currency wallet where you can securely store BTC digital currency. So here are the best 10 bitcoin exchanges available for you to open your BTC accounts with.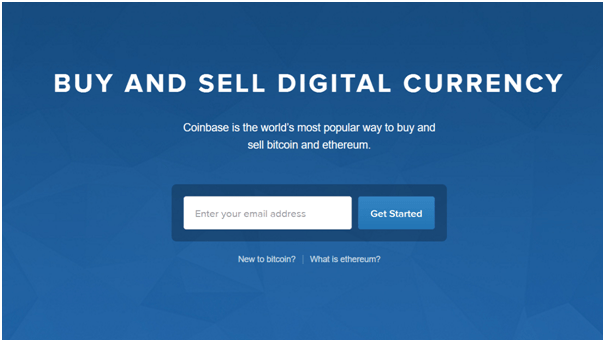 Coinbase is one of the most reputable and popular bitcoin exchange. It was founded in late 2012 as a part of Y-Combinator and until today has raised more than $106 million in venture capital. Coinbase is considered by many the leading Bitcoin exchange available
Coinbase will block your account and cease your funds if suspect gambling so not recommended to do online transactions with casinos to play games. It is a no-fuss platform for just bitcoin buying and selling. Coinbase supports a variety of payment methods for US customers to buy or deposit, including bank transfers, credit cards, debit cards, and bank wires. But if you perform dubious activities remember that this company monitors transactions for suspicious activities and may close accounts anytime. This exchange operates for over 25 countries.
There are two ways you can buy Bitcoins from Coinbase. One is through the Coin base wallet and the other is through the Coinbase exchange. When you buy Bitcoins through the Coinbase wallet you are basically buying the Bitcoins from Coinbase itself, whereas when you use the exchange you are participating in trading with other users of the exchange.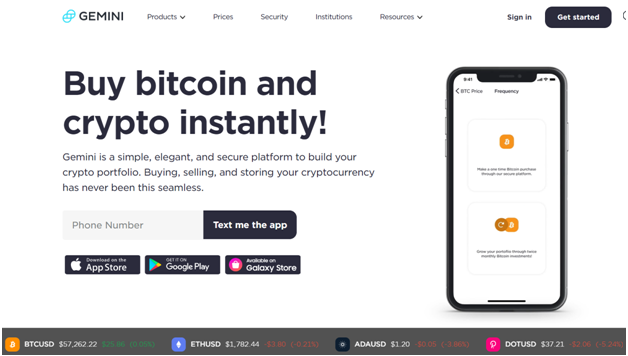 This exchange is another US-based outfit founded by the Winklevoss twins – the pair who sued Mark Zuckerberg over social networking, and were awarded $65 million which they put to use as venture capitalists. This exchange is based in New York, and is available in 45 US states, as well as the UK, Singapore, South Korea and Hong Kong.
Gemini's only supported fiat currency is US dollars,if you initiate an international wire from a foreign country, your funds will be converted to USD by an intermediary before it reaches your account. Also it only trades Bitcoin and Ethereum. Gemini does not charge deposit or withdrawal fees, and levies a low flat rate of 0.25% for trades, to both the buyer and the seller.
Another advantage of Gemini is that it's a New York state limited liability trust company, and is regulated by New York's Department of Financial Services. Close proximity to the Wall Street financial markets allows the company to easily provide a bridge from more traditional investments to newer cryptocurrency markets, for both individual and institutional investors.
Gemini is also notable that it accepts ACH transfers for fast access to money for trades.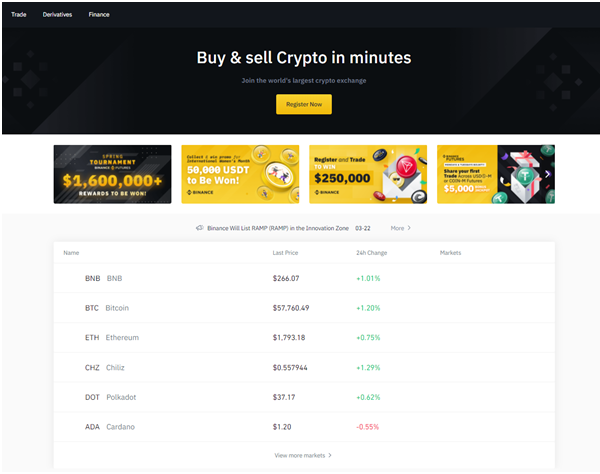 Binance is one of the best crypto exchanges in the world that offers a place to buy, trade and sell more than 200 digital cryptocurrencies. The platform has seen a meteoric rise to become the most popular crypto trading exchange with the highest daily trading volume. The exchange supports residents in the US to buy, trade and sell cryptocurrencies using US Dollars.
Allows users to buy crypto using a wide range of fiat currencies
Supports multiple payment methods such as bank deposit and credit/debit card
The fees between 0% and 0.1% are one of the cheapest rates for buying and selling crypto compared to other exchanges. Binance exchange also offers a wide range of financial services and advanced features.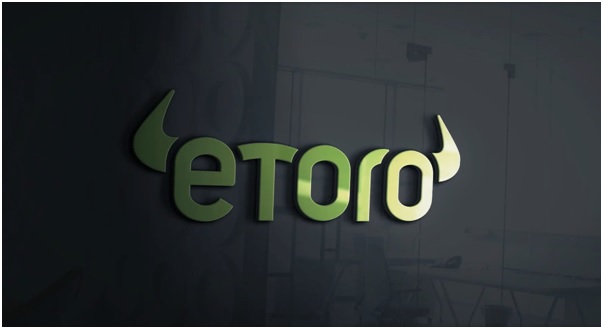 eToro suites for beginners in the US that lets you buy cryptocurrencies with a powerful and user-friendly trading platform. The platform provides a simple platform to trade the major digital currency pairs, altcoins, or practice crypto trading using a virtual portfolio.
Purchasing cryptocurrencies on eToro will incur a spread cost only for the actual asset. The spread charge varies for each digital asset and rise and fall depending on market conditions. Here the fee to buy and sell Bitcoin is 0.75% per trade. Compared to other cryptocurrency providers such as Coinbase which charges between 0.5% and 3.99%.
The trading interface includes real-time crypto market research & news, advanced trading features and risk management tools and a social network. Users can copy-trade the most profitable crypto traders and connect with other traders to share ideas, strategies or mirror the trading performance of profitable traders.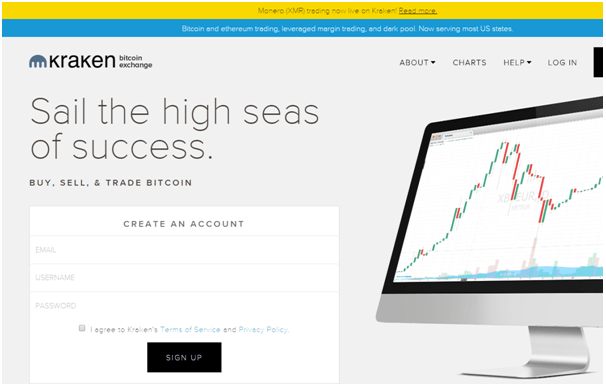 Kraken cryptocurrency exchange that was founded in 2011 that is based in San Francisco, California. Kraken is a licenced and regulated crypto exchange in the US with FinCEN, except for customers in Washington state (WA) and New York (NY).
Kraken has 54 cryptocurrency assets available to buy and sell such as Bitcoin, Ethereum, Tether USD, XRP and Litecoin. There is also popular DeFi tokens like Compound (COMP), Kava (KAVA) and Kyber Network (KNC). Traders can use the advanced trading options and automated portfolio monitoring to allow users to monitor the market and manage their portfolio using a single interface.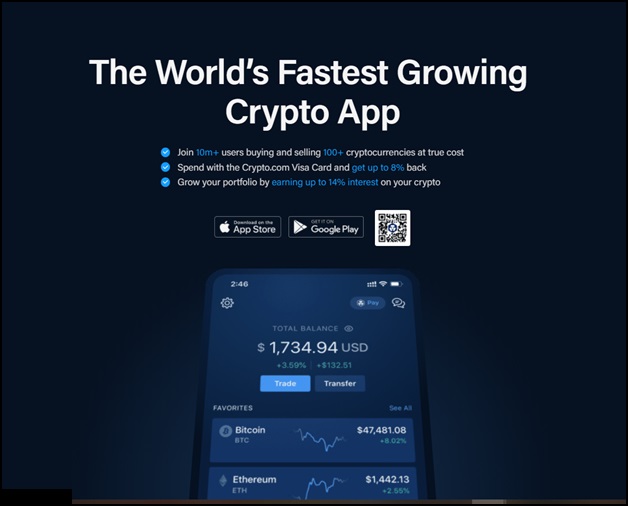 Crypto.com has over 1 million customers worldwide, and is a premium cryptocurrency exchange and trading app which is supported in 49 states in the US. Crypto.com app is an all-in-one platform to buy, sell, trade, spend, store, earn, loan cash and even pay bills with crypto.
Crypto.com can provide deep liquidity resulting in competitive trading fees to trade crypto coins against fiat and stablecoins. The user-interface is highly intuitive on an easy to use mobile app. Also there is a 90 days of zero-fee crypto trading for new users.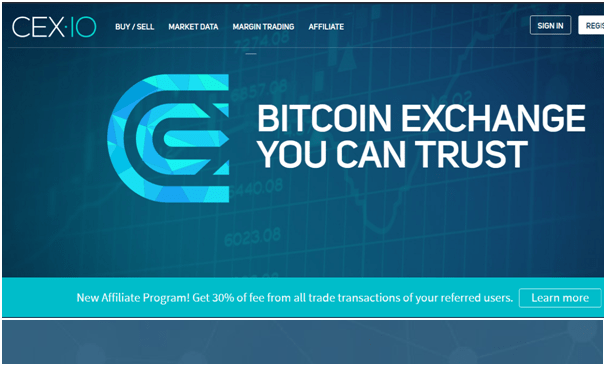 CEX.IO is one of the oldest cryptocurrency exchanges in the world for crypto buyers and sellers and is trusted by over 3 million users. It is a world-class exchange that caters to all types of investors with its easy to use interface, making it ideal for beginners and experienced investors.
CEX.IO is a popular choice in the USA for residents that want to buy crypto instantly using credit/debit card. The exchange is available on desktop or its mobile app that supports iOS and Android smart phones. Users can even sell coins instantly and withdraw fiat profits to a VISA or Mastercard.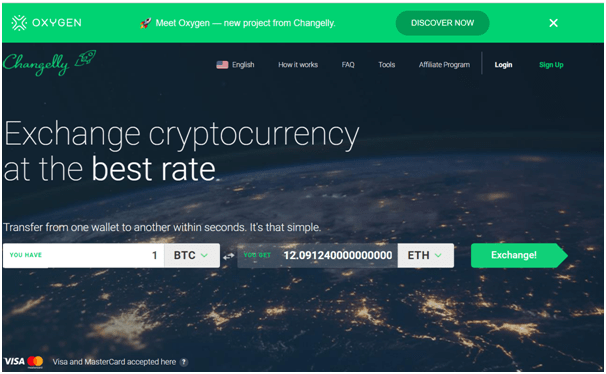 Changelly is a cryptocurrency exchange with support for many more virtual currencies than most, including Monero, Dash, Bytecoin, and DigitalNote among others. If you are mining a less popular currency, chances are that Changelly can exchange it for you.
This exchange comes from the popular mining platform MinerGate which provides a merged mining pool across Windows, Mac, Linux and Android operating systems. While Changelly focuses on exchanges between different cryptocurrencies, users can also purchase cryptocurrency with US Dollars or Euros.
Note that this exchange has a shorter track record, as it only entered the market in 2016. Exchange fees are 0.5% on transactions.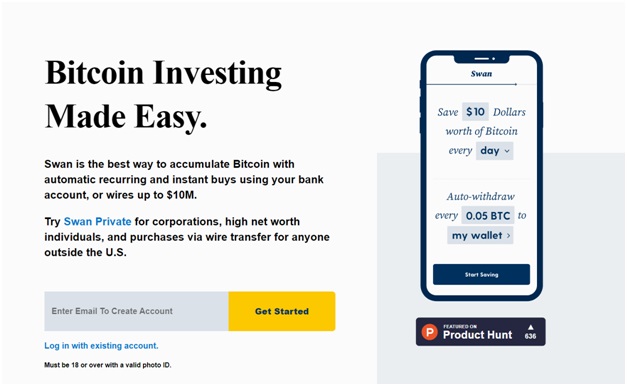 Swan Bitcoin is also best exchange for newbies. Also good for the investment experience and to start trading with an easy to use platform that can automatically purchase Bitcoin. Users can create an account and choose to automatically deposit funds on a daily, weekly or monthly basis with as little as USD$10. The benefit of Swan Bitcoin is that it takes the price out of the equation and investors can build a position over time without stress. They also provide excellent customer service to users.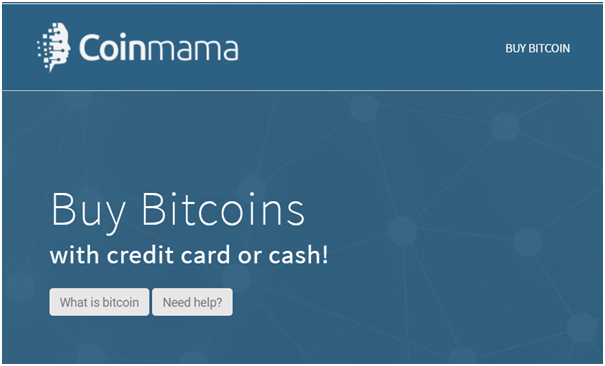 Coinmama is a bitcoin broker based in Israel. They specialize in selling bitcoins for credit card to nearly anyone in the world. They also sell Ethereum, and are currently working on adding additional crypto currencies.
Note that Coinmama is not a wallet service – they simply send the coins to any wallet you choose.
To download an Ethereum wallet for free, you can visit https://www.myetherwallet.com/
It also accept all currencies meaning you can pay with your local currency. However, the pricing will be displayed in USD or EUR with more currencies to be added soon.
They offer easy ways to buy Bitcoins with credit cards VISA/Mastercard or cash deposits via MoneyGram and Western Union. Coinmama uses Simplex – a credit processor which allows you to buy up to $520 in one purchase. Unfortunately, Coinmama also has extremely high exchange rates due to chargeback issues and the availability of credit and debit cards as payment methods. It's pretty similar to Coin.MX only their verification process is slightly faster. The pricing is displayed in USD or EUR, but they accept all currencies. The minimum you can buy is 0.1 bitcoin or 5 ether.
Besides these best Bitcoin exchanges you can also try using services from other Bitcoin providers like BitX, BitBay E Coin and few others.