The 6 Best Bitcoin Casinos To Play Plinko Games
Plinko is one of the most popular games that you will find at most of the Bitcoin casinos. Actually Plinko is a game played on a nearly vertical board populated with offset rows of pegs. The player chooses one of five slots in the top of the board, drops the chip into it, and watches as the chip bounces down the board. Each time the chip encounters a peg, it will either bounce left or right.
On a fair Plinko board at Bitcoin casinos, the chance would be an even 50 percent each way (except on the board edges, where only one choice exists). The chip eventually ends up at the bottom row, with the ending column determining the prize.
This game is extremely simple, entertaining, and derives a lot of its popularity from Japan as there are many Plinko game centers scattered throughout the country. Plinko has also been featured on many popular televised game shows such as "The Price is Right."
As there are many Plinko games to enjoy at the Bitcoin casinos here are the Six Best Bitcoin Casinos To Play Plinko Games and other cryptocurrencies.
1. Mint Dice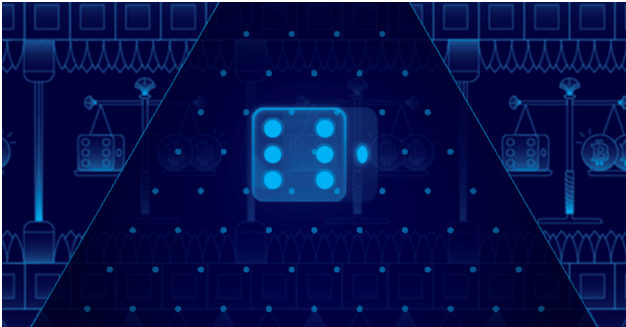 In MintDice's Plinko Game you can choose how risky of a dice drop you want to gamble on. White Dice are the most conservative followed by Blue then Green with Red being the most aggressive. Then you can watch your MintDice (and other players' dice) fall down the screen. The closer your Plinko Dice ends up along the sides the bigger your win will be. If the Dice ends up near the middle of the Plinko Board you may lose part/all of your bet. Also, pay attention to the MintDice Bonus Bitcoin! If your dice lands on a 6, you will double your win!
Mint Dice Bitcoin Casinos offer Plinko games that you can play and win with many types of cryptocurrencies.
2. Crypto-Games.net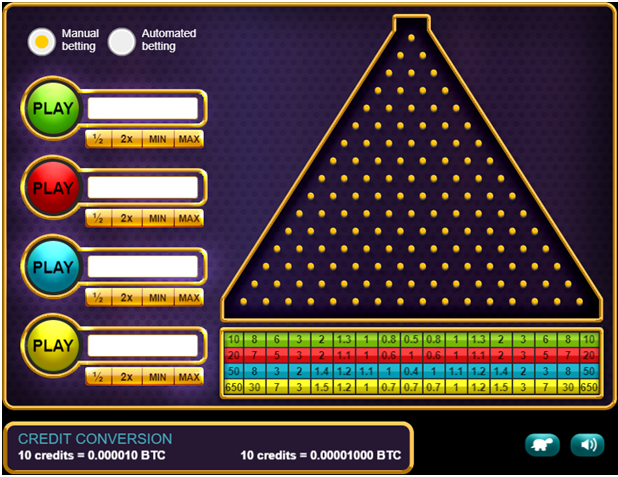 At Crypto-Games.net you can play Plinko with using any of the 10 accepted cryptocurrencies: BTC, ETH, LTC, DOGE, XMR, BCH, ETC, DASH, NEO, and STRAT. As Plinko is a very simple game where you drop a ball from the top of a pegged pyramid and watch it randomly bounce all the way to the bottom. Once it reaches the bottom, the slot that it falls into corresponds to a payout value. Prior to dropping the ball, enter the amount you would like to bet and the color of the ball you wish to drop. Make sure to choose your lucky color! Once those are set, press the Play button and watch the ball fall down the pegged pyramid into the slot corresponding to your payout. Each slot corresponds to a different payout ranging from a 650x payout to a 0.4x return. Payouts depend on the color of the ball that is dropped and the slot that it falls into.
3. FortuneJack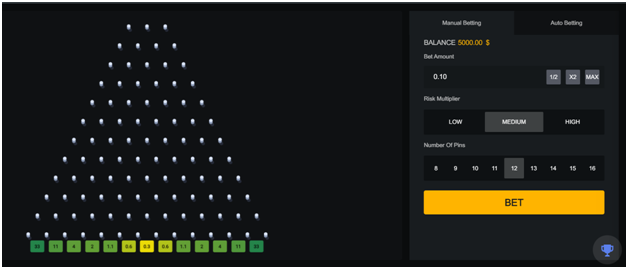 FortuneJack is another Bitcoin casino that has a wide range of casino games and a sportsbook. But this casino also has a few provably fair games, including Plinko. Its version of Plinko is different from the one in terms of design and mechanics. For instance, FortuneJack players can choose from three Risk Multipliers (Low, Medium, High). They can also specify their preferred number of pins (rows), from eight to 16. The multipliers change accordingly based on the number of pins. Moreover, as if already a staple in provably fair games, this Plinko, which is perfect for mobile betting, also supports Auto Betting. Use BTC, LTC, DOGGE, ETH, ZCASH, DASH, BCH, or XMR to play this Plinko game.
4. Stake Casino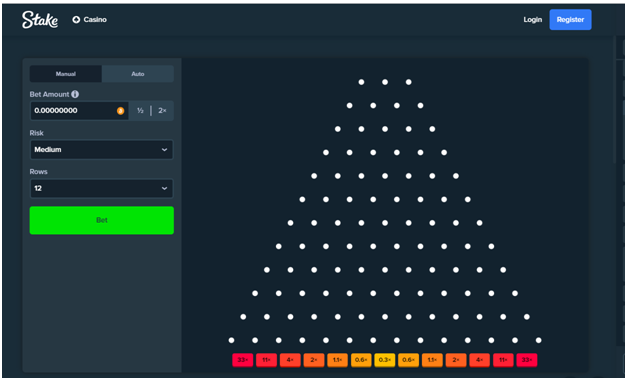 Stake casino is another Bitcoin online casino that offers Plinko games. The game lets players choose between Manual and Auto betting, as well as play using BTC, ETH, LTC, DOGE, and BCH. There are three Risk Levels here — Low, Medium, High — all of which come with their respective multipliers. Similarly, there are 16 rows available, which can be adjusted up to eight rows as the least.
5. Bitvest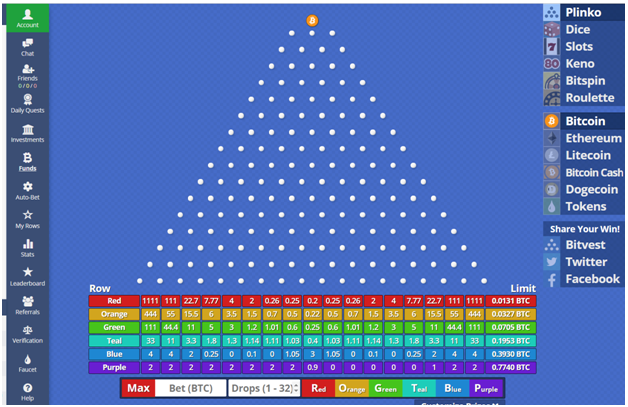 Bitvest.io also has its own provably fair Plinko game. It also comes with different Risk Levels, but it offers a total of six levels to play. Bitvest's version of Plink gives players the power to customize the multipliers for every Risk Level. The rule, though, is for the custom multipliers to have a maximum of 98.30% RTP and for the prize to be 1250x at the most. The Plinko game in this casino is mobile-friendly and works with BTC, ETH, LTC, BCH, and DOGE.
6. Oshi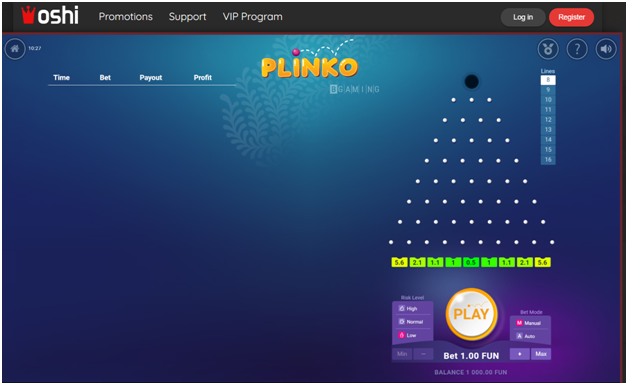 BGaming-poweredOshi Bitcoin Casino is another well-known Bitcoin casino that offers Plinko games from  BGaming software. This Plinko game is the only one on this list that was not created by a crypto-friendly casino. BGaming, a game developer under SoftSwiss, created its new Plinko game. BGaming's Plinko game also has three Risk Levels low, normal, and high, Also plays up to 16 rows, and there is the option to play manually or in the auto. It runs smoothly even on mobile devices, and it can be played using both fiat money and cryptocurrencies, depending on any BGaming powered casino like Oshi Casino.
Now enjoy Plink games at these above casinos and have fun to win with Bitcoins or any other cryptocurrencies of your choice.