Newest App that teaches you how to become a Bitcoin cash trader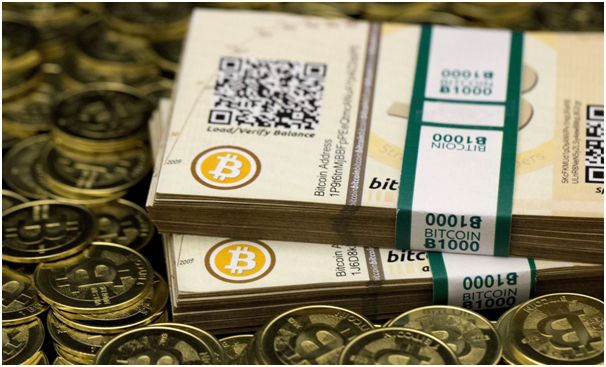 Download free on your Android smartphones
Beginners who want to know and learn how to become a Bitcoin Cash trader can now do so easily with an app. If you don't know what is Bitcoin Cash then it is also a cryptocurrency now popularly used in US online casinos to play real money slots and other dice games. It was formed in mid-2017, when a group of developers wanting to increase bitcoins block size limit so prepared a code change. The change, called a hard fork, took effect on 1 August 2017.
As a result, the bitcoin ledger called the blockchain and the cryptocurrency split in two. At the time of the fork anyone owning bitcoin was also in possession of the same number of Bitcoin Cash units. The technical difference between Bitcoin Cash and bitcoin is that Bitcoin Cash allows larger blocks in its blockchain than bitcoin, which in theory allows it to process more transactions per second.
Bitcoin Cash trades on Digital currency exchanges like Bitstamp, Coinbase, Gemini, Kraken and Shapeshift using the Bitcoin Cash name and the BCH ticker symbol for the cryptocurrency.Bitcoin Cash payments are supported by payment service providers such as BitPay, Coinify and GoCoin.
Bitcoin Cash: Online Course App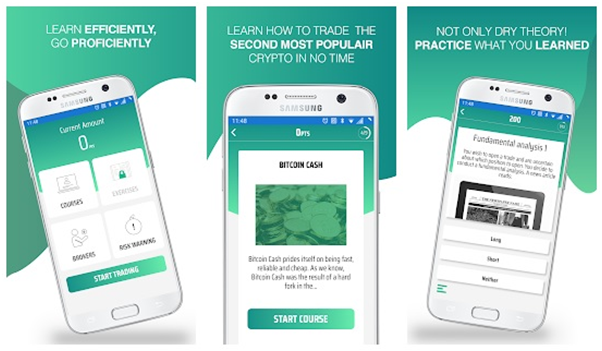 This app gives you the basics and explains in detail the instruments that any successful trader should be using such as fundamental and technical analyses. This app is developed as of now only for Android cell phone users. It's an educational app that teaches bitcoin cash trading for beginners, including online and CFD trading. But before that, the app starts with a summary on cryptocurrencies and an explanation about blockchain technology and how it works.
The software provides an extensive description of bitcoin cash, the cryptocurrency that represents the original concept of Bitcoin – as peer-to-peer electronic cash. The online course goes on to point out the differences between Bitcoin Cash (BCH) and Bitcoin Core (BTC) and speaks about the future of BCH.
The application has a dedicated page on how to conduct fundamental analysis, which is very important in order to understand the external macroeconomic factors that could affect the price or the value of a particular cryptocurrency. It deals with questions like what problems bitcoin cash solves and lists its main advantages such as fast and low cost transactions.
Features of the app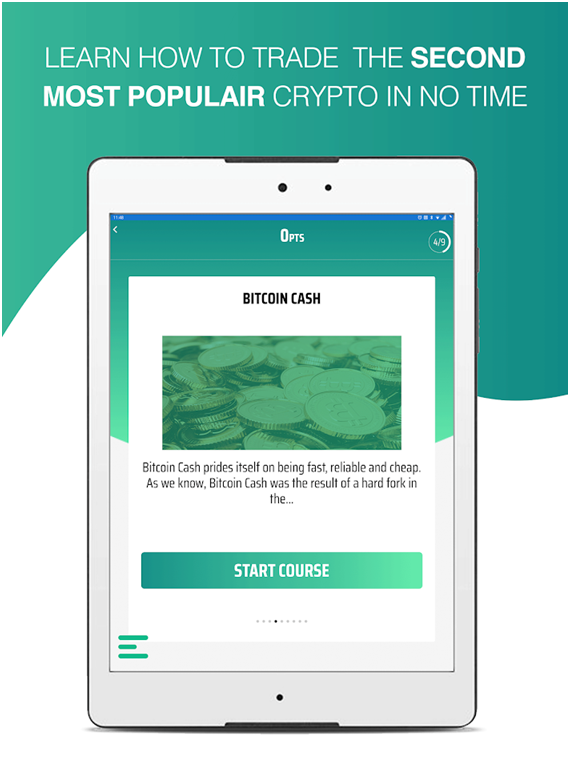 You will find Cryptocurrencies extensive summary
Explanation of what is Blockchain Technology and how does it work
Extensive description of Bitcoin Cash
Find the differences of Bitcoin and Bitcoin Cash
Also the future of Bitcoin Cash
What is Contract for Difference (CFD) trading?
Guidance of how to conduct a fundamental analysis
Know the difference between the Bitcoin Price and the Bitcoin cash Price
Find an extensive guidance on online trading
Advice on how to establish support and resistance levels
The online course helps traders with understanding the importance of technical analysis, which involves the studying of patterns and trends, while recognizing the natural repetitive cycles that occur on the market. The app explores trend lines which typically move in three directions – upward, downward and sideways – and explains indicators such as moving averages.
Other interesting features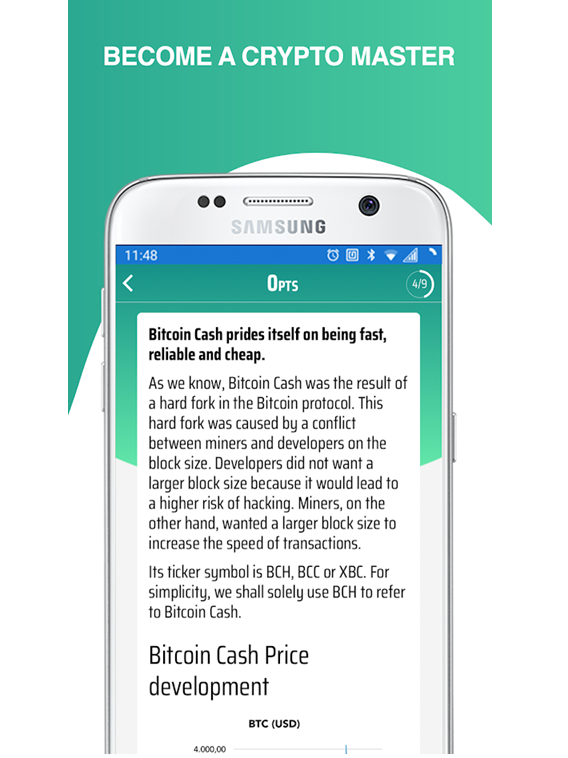 The Bitcoin Cash: Online Course application also describes other trading instruments such as the Relative Strength Index, which is an oscillator used in measuring the speed and change of price movements. It helps traders recognize oversold and overbought market conditions.
This app also includes examples of trading session which will allow you to adopt the theory and then apply it in a much more practical style. The app offers a great combination the theory and fun exercises.
Click here to download this app now all free on your Android cell phone
This app requires 4.1 and up Android device to work all smooth. For more information on this app or help support write to info@investingacademyinternational.com