The Highest RTP Slots To Play At Bitcoin Casinos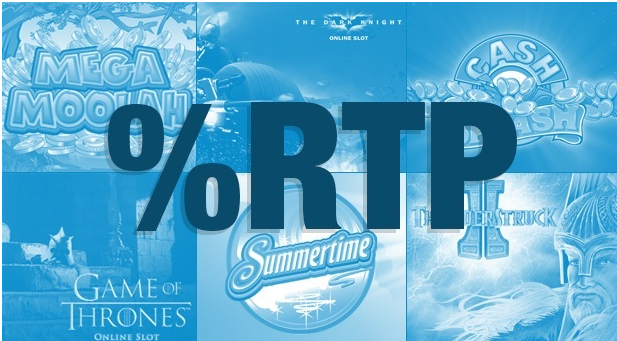 The highest RTP slots are those slots that offer RTP of 97% and above. RTP stands for Return To Player and it describes the amount a slot pays back to the players over a large number of spins, usually expressed as a percentage. For example, a slot with RTP of 97% will give back $97 for every $100 that goes into it. So, this piece of information basically explains how much you can expect to lose playing a particular slot game.
It is important to understand that this number is calculated based on a huge number of spins, usually millions. So, over a short session of a few hundred or a few thousands spins, everything can happen, which is exactly what makes slots exciting. A game that would pay back exactly $95 back after 100 spins played at $1 would hardly be entertaining to play.
In a nutshell, though, a slot is always programmed in a way to give back the percentage of the total money that goes into it. The distribution of the RTP can vary, but at the end of a day, a slot with 98% RTP will give back 98 percent of all the money that goes into it over an infinite number of spins.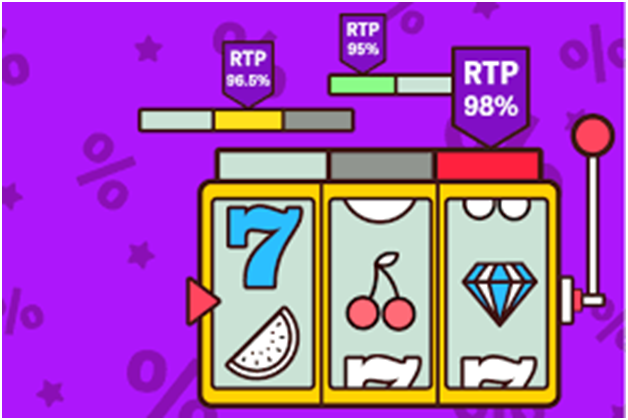 Most slots online, even if it is the exactly same game, have significantly higher RTP. Land-based slots are usually set to return anywhere from 70% to 90%, with very few games ever going over 92%. Online, slots that are under 94% – 95% are usually considered bad and many of the newer games have RTPs north of 96%.
Remember that if you play slots at land casinos the RTP is less though. The reason why slots in physical venues are set to return less is because land-based casinos are limited in space so they have to make more money from physical machines placed on their floors to keep up with expenses and make profit.
Online casinos, on the other hand, can have hundreds or even thousands of machines available for play at any given time with no physical restrictions. Thus, they can afford to offer games with much higher RTP.
Also note that slots with progressive jackpots may have advertised RTP of 94%, for example, but a part of that RTP is usually realized through progressive jackpots. This means that, unless you actually win the jackpot, you'll be playing the game with RTP significantly lower than what is advertised.
If you are looking for the latest highest RTP casino slot machines, then the best place is to play at online casinos. Most land-based slot machines have an RTP of 80% to 95% while the majority of online slots today come with an average RTP of 96%.
When you consider that online video slots are mobile-enabled, desktop-ready and that online casinos hosting virtual slots are not restricted by floor space, it is easy to see why online slots developers can offer players a higher RTP.
A land-based casino needs to make as much profit for its floor space versus walk-in customers and to make their dedicated slots areas more profitable, land-based casino slots often have a lower RTP.
It is another way of referring to the house edge for a game.
A game with an RTP of 96% has a house edge of 4%
A game with an RTP of 99% has a house edge of 1%
The idea of RTP is to give you an indication of how much you can expect to theoretically get back in winnings playing a casino slot machine over a long period of time. It is also important to point out the word 'theoretical'. All RTP and house edge percentages are theoretical. Just because an online slot RTP says 97% does not mean you will get back 0.97 mBTC (One mBTC, otherwise known as a millibitcoin, is one-thousandth of a whole bitcoin, or 0.001BTC) for every 1 mBTC you bet.
The idea of RTP is just to give you an indication of how the slot's reels, symbols, and features work in sync to give you a chance of winning. It is important to remember that every spin is an 'independent event' so if you win the jackpot which has a 0.01% of rolling in, you still have a 0.01% chance of winning the same jackpot on any other spin.
As with any casino game or bet, the higher the odds of winning, the better you chance of a profitable session while you reduce the risk of losing. Put another way, you increase your profits and reduce your losses when the RTP is high or the house edge is low.
Play The Highest RTP Casino Slot Machines At Bitcoin Casino
Here are the highest RTP casino slot machines at bitcoin casinos you can play. All you need is to make a deposit with cryptocurrencies and play slots. Just follow the link to each game for the free play version if you want. If you want to play the crypto slot version using BTC, BCH, LTC, ETH, XRP, USDT, or DOGE. Signing up takes place less than 30 seconds at Bitcoin casinos.
You will have access to over 1,700 online cryptocurrency slot titles from the best slot developers online today. BetSoft Gaming Pragmatic Play, Amatic, Play'n Go, No Limit City, Endorphina, GameArt Spinomenal, Habanero, iSoftBet, and Paltipus are just some of the big-name software providers with online video slot titles available at Bitcoin casinos.
Fruit Box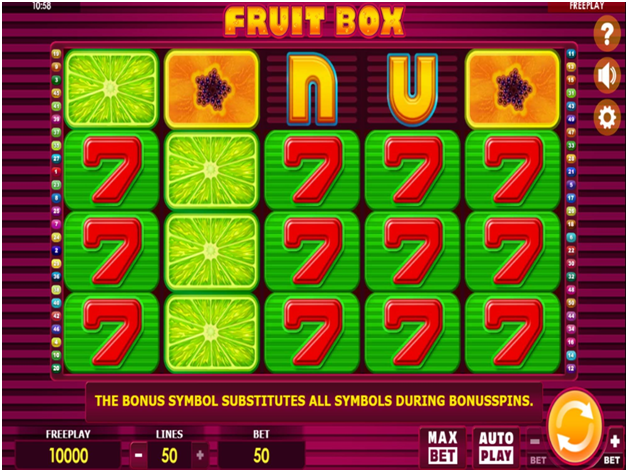 Fruit Box by Amatic Gaming has the RTP of 97.78%. This classic style slot games with simple graphics and fast paced action, is available to play at Bitcoin casinos. You will play on 5×4 reels and you have the option to stake 10, 20, 30, 40, or 50 lines per spin. Features include a bonus spin round and staked wild symbols which is where the majority of your big wins will come from.
On top of the stacked wilds, all symbols are stacked 4 high on the reels giving you a higher chance of linking up multiple symbol combinations from a single spin. Landing the top paying red 7 symbol 5 times on a payline will fetch you a 20x multiplier, and if you manage to fill the reels with the red 7, you could end up with a 1,000x spin bet jackpot multiplier if you bet all 50 pay lines.
Roo Riches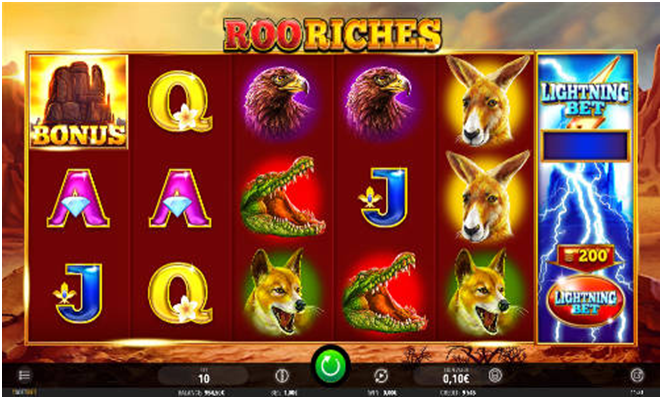 Roo Riches by iSoftBet has the highest RTP of 97.66%, It has an amazingly high RTP. Roo Riches has a vibrant Kangaroo theme set in the Australian outback. One of the reasons this slot has such a high RTP is its 6th reel which is not there for symbols but as a feature reel for an additional 'Lightning Bet' feature. By enabling the 'lightning bet' mode all symbols turn into gold coins with cash wins on each one and you will then spin the reels accumulating instant cash prizes by landing these coins anywhere in view.
In 'normal mode' there are 8 symbols and a wildcard. These are a Kangaroo, Crocodile, Dingo, Eagle, A, K, Q, and J. All of these symbols pay when you lane a combination of 3 while the Kangaroo symbol will pay when you land just 2 on a pay line. You can trigger combinations from a normal spin and there are also 'Lightning Bet Re-Spins' when you fill the reels with gold coins.
iSoftbet also adds 'Cash Chip Spin' and a 'Free Spins' bonus giving you plenty of ways to take full advantage of this slot's massive 97.66% RTP.
Other iSoftbet slots with an RTP of over 97% from iSoftBet include Mystery of LongWei, Hot Shots, 3 Charms Crush, Beverly Hills, and The Ruby.
Quest to the West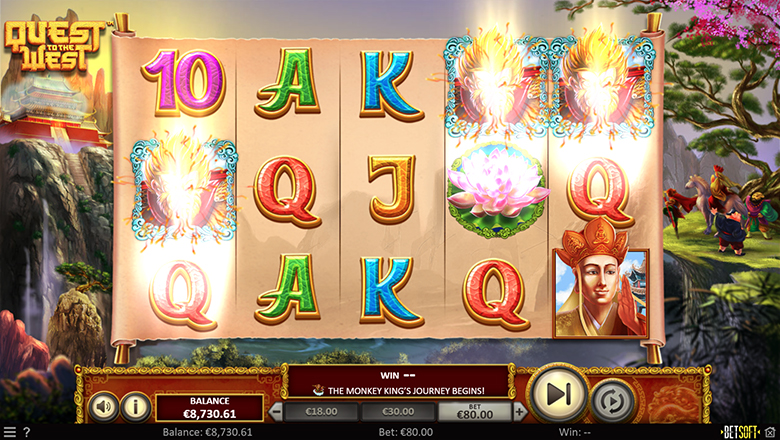 Quest to the West by BetSoft Gaming has the highest RTP of 97.53% With the Monkey King adventure theme captures the hearts and minds of online slot players that enjoy mystical themes.
There are 5 reels and 25 pay lines to traverse and the chance to win up to 1,000x your spin bet. Features include re-spins, walking wilds, and a fixed jackpot prize. The attractive 'Meter of the Heavens' is the main feature because this is your ticket to the 1,000x spin bet jackpot.
Every time the Monkey King walking wild symbols walk off the reels, the meter goes up by 1 notch. All you need to do is collect 15 of these Monkey King prizes to the lucrative jackpot win.
As for standard combination wins, there are 11 symbols that will pay when the reel spins line up 3, 4, or 5 symbols on a pay line. The golden-haired man is highest paying symbol, and he will dish out a high paying 37.5x your spin bet when 5 line up while the bearded warrior and the pig symbols also pay out generously with 20x multipliers applied to your spin bet when 5 line up on the reels.
Dim Sum Prize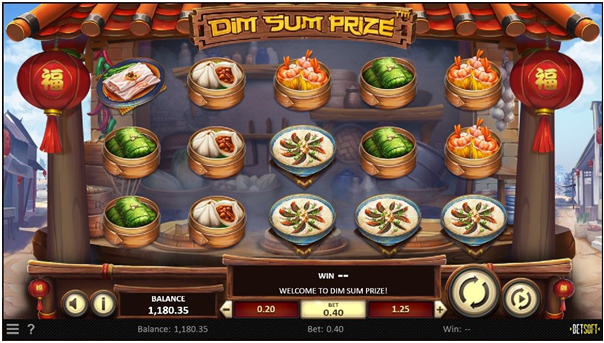 Dim Sum Prize by BetSoft Gaming has the RTP of 97.18% . One of the most innovative software providers around today, BetSoft Gaming is also one of the most popular. This is a Chinese Dim Sum themed slot titles with accelerated 3D graphics and amazing animations. Everything from the design to the gameplay on this slot is picture-perfect and smoother rolling, then add in the super high 97.18% RTP, and this slot could easily become a featured addition to your favourite slot games' list.
Your main mission on this mouth-watering slot game is to hit the re-spins feature by landing the Teatime Wild symbol in the base game and the Dim Sum Prize Free Spins feature. Free spins launch via a coupon scatter symbol giving you 5 free goes on the reels and the chance to notch up some big wins thanks to additional wild symbols on the reels. Either of these features can appear via a bonus 'Bamboo Basket' symbol on reels 2, 3, and 4. It will pop open and either reveal re-spins or free spins.
All symbols on the Dim Sum video slot pay when 5, 4, or 3 hit the reels and the highest paying symbol will land you a 25x spin bet multiplier for 5 on a pay line which is petty generous.
BetSoft has more titles that come with an RTP of 97% or more from this software developer include – Good Girl Bad Girl, The Angler, True Sheriff, The Tipsy Tourist, Safari Sam, Greedy Goblins, Puppy Love, At the Copa, Shushi Bar, Who Spin It?, After Night Falls, Back in Time, Gypsy Rose, Sugar Pop, and more
There are many other highest RTP slots to play and win at online casinos as well as Bitcoin casinos. All you need is a bankbalance to play slots and play wisely sticking to your budget.