Two New iPhone Game Apps to get Bitcoins
There are many bitcoin game apps at app stores to play. Many of these involve mining bitcoins and even offer real bitcoins to earn. Recently two new game apps were added at app store for you to download all free and try mining Bitcoins. These crypto games developed by Bear Games are best iPhone game apps as are available for Android at Google Play stores.
The Crypto games- Get Bitcoins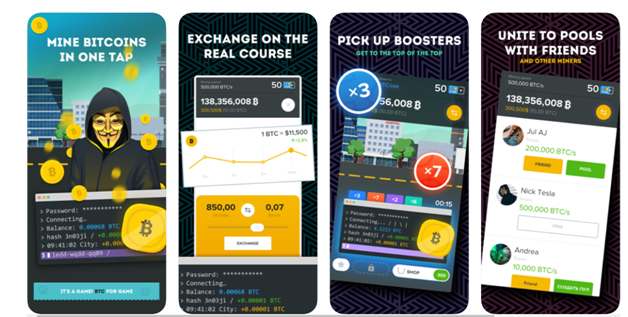 In this game you're gonna have to be a cryptocurrency miner. Get the bitcoin with one finger – just tap and get the bitcoins on your mining farm. That is not an ordinary clicker, because the game included economic simulation.
The money game starts with yourself computer farm and you need to grow your cryptocurrency business. To do this, upgrade your money-making skills, buy or free hack into new buildings: banks, cinemas, amusement parks, museums or build your Falcon X as Ilon. Fix the whole city for yourself – every building in the city will make you from the same to a millionaire. Prepare to mining adventure!
Features of the game app
There are over 400 different upgrades and artifacts in the game that will help you get Bitcoin and become rich. Upgrade your clicks, passive earnings and boost your cryptocurrency business.
You can do games with money, invest Bitcoin in another currency and earn even more money at the rate of exchange and get cash.
Build and buy other buildings in the city, grab all the business to earn more money, because no one canceled the passive earnings. There are 56 different types of buildings for construction. You gonna become real money tycoon
Tap to get your luck and get accelerated Bitcoin mining. Ask for help from hackers and they will double the amount of Bitcoin earned per minute.
Bitcoin mining happens when you are not in the game, even when you are left without the Internet, the game will mine in-game Bitcoin and grow your cash.
Create your own mining pool – it's like a clan. Create your empire from scratch and become the most influential miners.
There are over 65 achievements in the game  which is real fun.
Remember, the bitcoins of the game cannot be cashed. There are in app purchases in the game to buy credits and play more.
The Crypto Merge – Get Bitcoin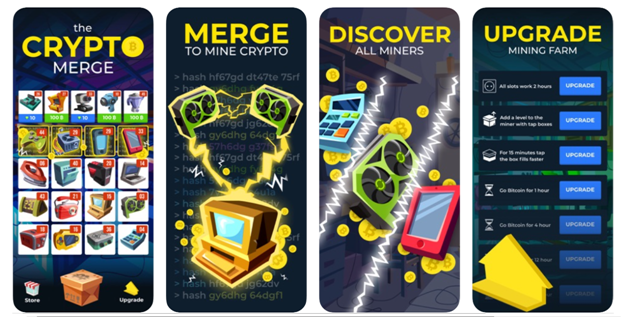 The Crypto Merge is the first merge simulator game about from Black Bears mining cryptocurrency and has high rating of 5 at app stores. The goal of the game is to build and expand your farm, discover up new devices for mining Bitcoin. Use the merge mechanics to open up new miner devices and grow your mining farm. Upgrade all the improvements to grow your cryptocurrency business profit.
Features of the Crypto Merge game app
Merge and examine your mining devices.
Plug the device into a sockets outlet as soon as it appears so that it can start mining bitcoins.
Merge similar devices to open new ones.
New miners bring in more revenue.
Idle and offline mining
Manage your farm offline. The game can work without the Internet.
The farm works automatically even when the game is closed. If you come back you will get all the idle income.
Boosters and upgrades
Pick up endless boosters on the playing field to get more bitcoins. Manage to grow your mining farm.
Expand your farm to earn more income.
You can use the more sockets outlets to connect devices and mining bitcoins than the higher the level of your farm.
Remember, the bitcoins of the game cannot be cashed. There are in app purchases in the game to buy credits and play more.
In case you find any issue in the games apps you can contact the developer at mail@blackbears.mobi