Five new bingo games to play with Bitcoins at Bitcoin-friendly online casinos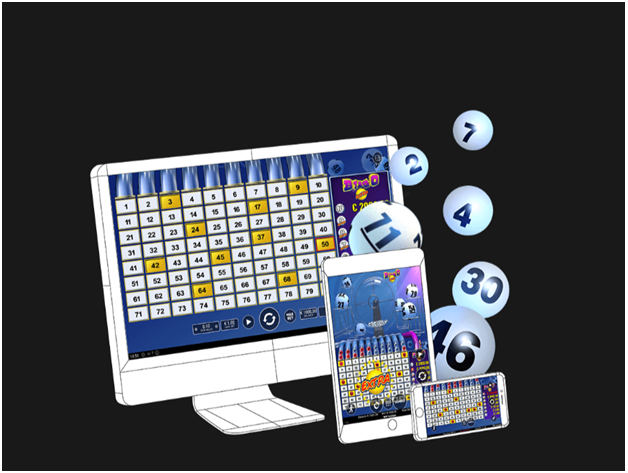 Bingo games are the game of chance and are played with cards or number balls. You have to match the randomly drawn numbers against the numbers printed on Bingo cards. The winner is usually required to call out the word "Bingo!", which alerts the other players and caller of a possible win. All wins are checked to make sure the person has not made a mistake before the win is officially confirmed at which time the prize is secured and a new game is begun. You then compete against other players for the prize or jackpot.
Bingo games are played as lotto games in many countries at various bingo halls. While the 90 ball variation remains, the most famous, many bingo sites will offer 75 ball bingo. This is played on a card with a 5×5 grid, and there are just 75 balls in use. The game provides chances to win by completing different patterns, including the standard vertical and horizontal lines.
One of the latest types of bingo games to be introduced is 30 ball bingo, which is also known as Speed Bingo. That is commonly found at the top Italian bingo sites and offers a 9 square grid. With this variation, the player that completes a Full House will be the winner. This game is unique, and unlike 75 and 90 ball bingo, there are no patterns to complete besides the Full House.
Also there are video bingo games like slot machines available to play at online casinos with real USD and Bitcoins. These games are spinned like slot machines to match the numbers. Here find five new bingo games to play with Bitcoins at Bitcoin friendly online casinos.
Banana Bingo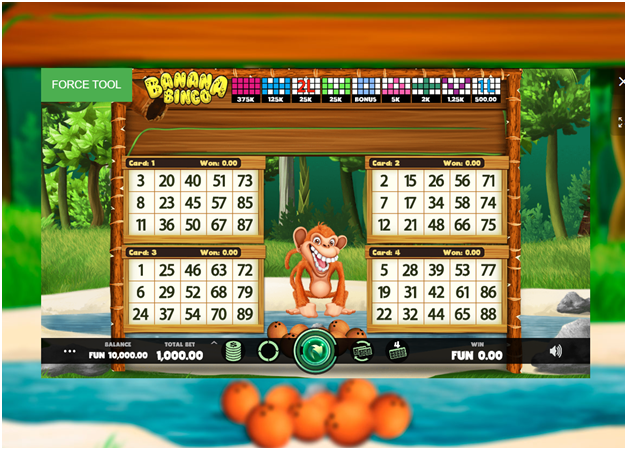 Banana Bingo like with any traditional Bingo game you can play on several cards here: 30 balls are drawn with every go – the more cards are activated the higher your chances to achieve a Bingo. Landing one of the bonus patterns triggers a Monkey bonus and with a little luck you might even crack the jackpot! This game recently launched by Caleta gaming and features Extra Balls, Monkey Adventure Bonus Games: Monkey Climbing & Crazy Bananas.
Electro Bingo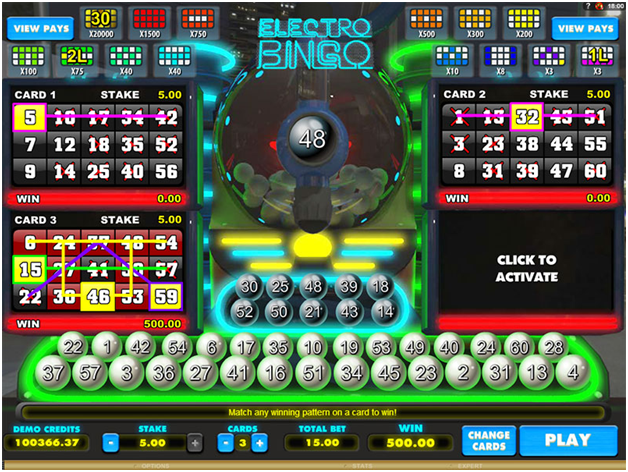 Electro Bingo from Microgaming is a fixed odds game that plays like bingo. Bet from 0.10 to 5.00 per card and play 1, 2, 3, or 4 cards per game. Like all but the progressive games you will find form Microgaming Electro Bingo can be played for fun to practice awhile or played for real money at any casino listed here. The graphics, sounds, and animations on this game are pretty exciting. All you have to do is mark off numbers to complete the patterns of the game to win cash prizes. Each card contains 15 numbers and you can change cards if you don't like what you see, or just want to throw a little whammy. 30 balls are drawn and when any match a number on your card they are marked. Winning patterns are shown along the top of the game screen, there are 14 in all. If you have all but one number to go when the draw is complete you get to pick a bonus ball for an extra chance to win.
Super Bonus Bingo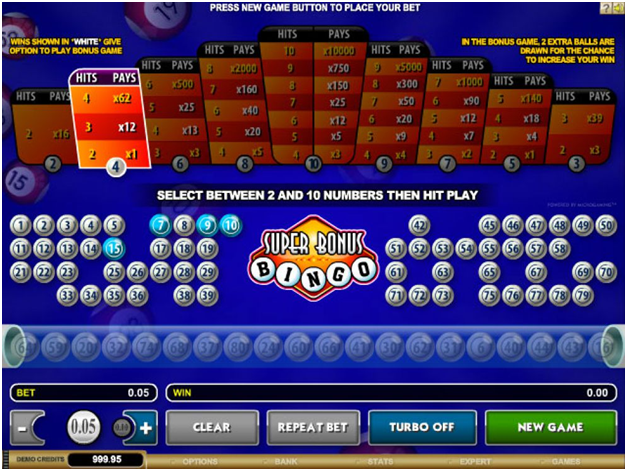 Super Bonus Bingo from Microgaming is unique in that it does not use bingo cards. Instead, you choose two through ten numbers out of the total field of 80. When the game begins, 20 balls are pulled out of the hopper. You must then match your chosen numbers to the winning numbers. The number of matches you need to win depends on how many balls you have chosen. The amount you win increases when you match more numbers, but the exact amount also depends on how many balls you chose at the beginning of the game. Super Bonus Bingo is the perfect game if you like bingo but despise having to go through each card and mark your numbers. Gameplay is fast, your numbers are automatically marked and your winnings are instantly tallied. The game also has a wide range of bet options starting at only 0.05 credits and going up to a maximum of 40 credits per play.
Bingo Bruxaria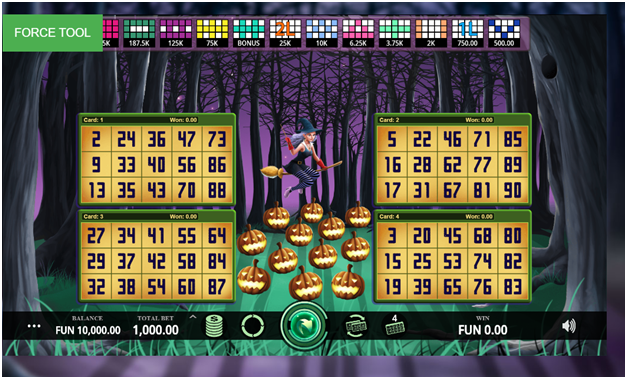 Bingo Bruxaria developed by Caleta gaming is mystical, magical, and a little bit frightening! You will find spider webs to cover drawn numbers, Pumpkins for extra balls, a beautiful Witch with her magic wand and of course superb game play with many chances to win! Extra Balls, Bonus Magic Poison Wheel are some of the game features to explore.
Hot Bingo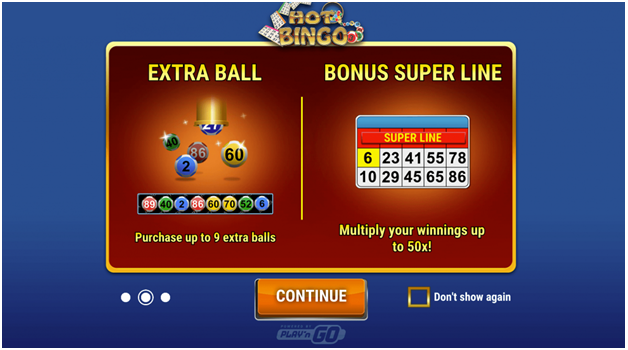 Hot Bingo by Play n Go allows you to play with up to four cards, meaning 4x the opportunities for you to win; each card contains 15 numbers ranging between 0-90, and no card will contain any duplicates.
Once you're ready to go 33 random balls, also between 0 and 90, will be released and any winning patterns on your cards will be marked off. But that's not all. If you are only one ball away from a 2-line pattern or a bingo pattern, then you get a chance to purchase yourself some extra balls and get a chance to create more wins.
Hot Bingo also contains a great bonus feature, Bonus Super Line. If you create a 1-line pattern with 18 balls or less, you'll trigger the Bonus Wheel which will give you for options: 2x Multiplier, 5x Multiplier, 10x Multiplier or Level Up.
If you get a multiplier, it'll be applied to all winnings but, if you get a level up then you'll another Bonus Wheel that'll beef up your multiplier options! On the second wheel you'll have a chance to get 30x, 35x, 40x or 50x multipliers applied to all winnings. If during the game you have all four cards in play and the minimum bet is satisfied then if you achieve a bingo pattern with 30 balls or less you'll also trigger the jackpot for a big win!
Extra Bingo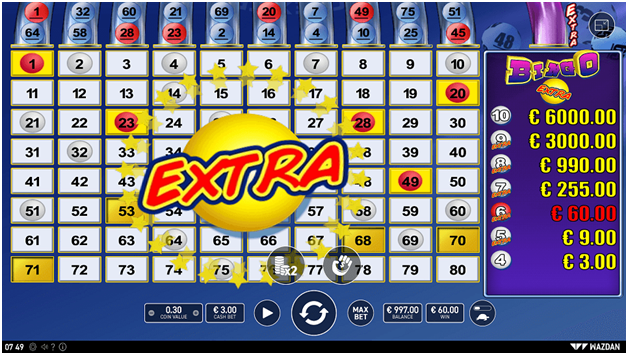 Extra Bingo by Wazdan gaming is classic bingo game, simple yet amusing with its traditional rules and appealing looks. One of the game's advantages is simple interface with attractive and colourful animation. Extra Bingo is extremely user-friendly and its appearance alone is enough to draw player's attention.
Extra Bingo follows the rules of well-known and popular game, so you don't need to waste time trying to grasp the idea of the whole thing! It's really easy and intuitive. The paytable is located on the right side of the main screen to enable you to check the value of wins at any time. There are 80 fields in Extra Bingo, each has a number from 1 to 80. You just need to pick 10 numbers and the game begins! The machine draws 20 balls and when the number you picked is hit, it gets marked with a red ball, while other drawn numbers are marked with a white one. To win, you need to get at least 4 numbers right. If you want to score the biggest win, you need to collect a combination of 10 numbers. Also, if you feel lucky, you may take a chance to double your every win instantly with the gamble feature.
Now play all these awesome bingo games with real Bitcoins at Bitcoin friendly casinos like Bitcasino.io and others.