The best way to convert Bitcoin to Ripple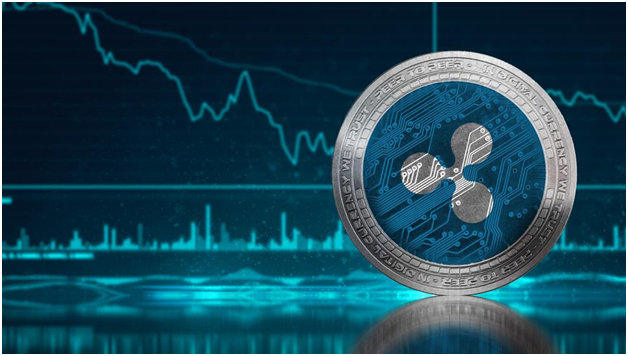 Bitcoins and Ripple are both cryptocurrencies that are widely used at online bitcoin casinos. While Bitcoin has been there for quite some time, Ripple has gained popularity lately as a blockchain-based transaction platform. It has reached a new milestone recently, which is extremely lucrative for people who want to invest in coins or play casino games with it.
Ripple was conceived by Jed McCaleb and built by Arthur Britto and David Schwartz who then approached Ryan Fugger who had debuted in 2005 as a financial service to provide secure payment options to members of an online community via a global network. Fugger had developed a system called OpenCoin which would transform into Ripple. The company also created its own form of digital currency referred to as XRP in a manner similar to bitcoin, using the currency to allow financial institutions to transfer money with negligible fees and wait-time. Ripple (XRP) is known for being the third-highest market capital in the cryptocurrency world.
Notably, its prices have surged to $2.10 from $0.25 in the last month. It is expected that it will soar further this year. This is the reason why Ripple has become extremely popular and people are still seeking to invest in it.
The best way to convert Bitcoin to Ripple
Many people or investors of cryptocurrencies convert Bitcoin to Ripple to increase their profits. There are different ways of exchanging and buying XRP for BTC. You can covert Bitcoin to Ripple at different crypto exchanges.
 Changelly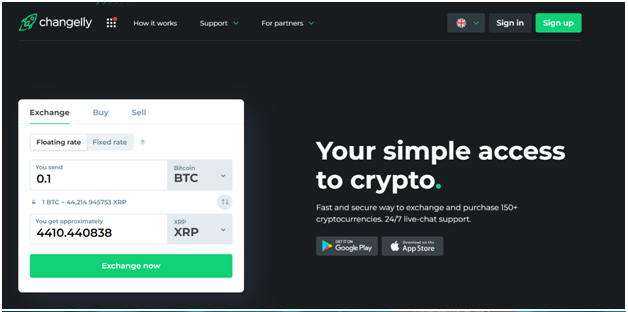 If you are keen to convert it in a fast and frictionless way, then Changelly is an option you should consider. It is a popular cryptocurrency swapping exchange with an easy registration process. It provides access to various cryptocurrencies in exchange for BTC. You should check it out to understand how the entire process works.
For using Changelly, you do not need a KYC or other lengthy forms. You can easily sign up without wasting much time or effort.
With Changelly, all you need to do is sign up with an authentic email ID. You can even use an alias if you want your identity to remain confidential.
Converting at Changelly you get competitive exchange rates with easy to access transaction history for tracking
To receive Ripple from Changelly, you will need the XRP address where you want to receive your Ripple tokens (Choose XRP wallet). Also surely you need some bitcoins to exchange for Ripple.
Binance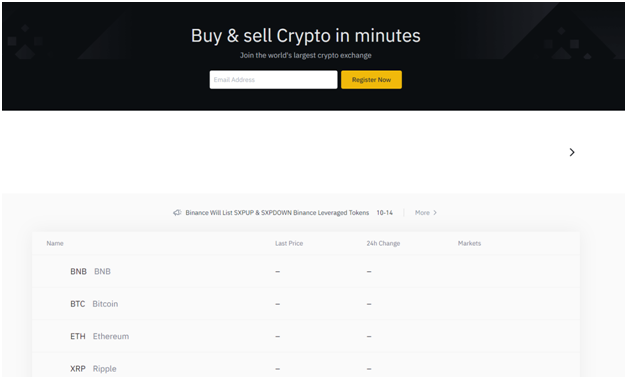 Binance is another way for cryptocurrency exchange in a convenient manner. It started in China and concluded its ICO in the middle of 2017. It has been growing substantially since then and is now placed as the numero uno cryptocurrency exchange. It has 140 altcoins listed on it, which are increasing manifolds. You can even get Ripple from Binance exchange if you already own BTC.
You are able to buy and exchange Ripple for BTC from Binance in the following trade pair. Moreover, the volume is impressive for bulk orders.
Notably, Binance also facilitates a mobile application for individuals who want to exchange XRP for BTC on the go. You have to transfer BTC and then exchange it for XRP.
Huobi Pro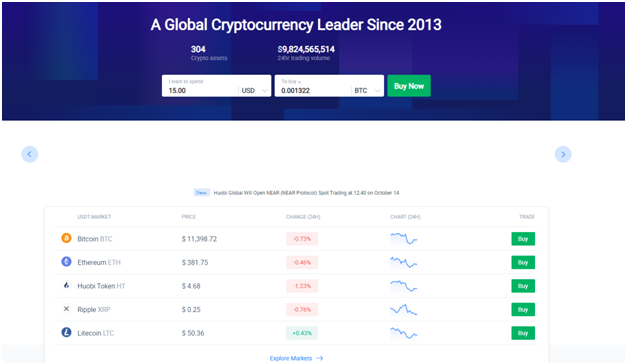 Huobi Pro is a brand of Huobi Global and a market-leading global digital asset exchange. On the other hand, Huobi Global is a leading cryptocurrency financial services group.
All you need to do is register using your email ID and simply set a password. But if you want to go for higher withdrawal limits, submission of documents for KYC is required. Houbi Pro supports above 248 cryptocurrency pairs, which even includes Ripple.
Bitfinex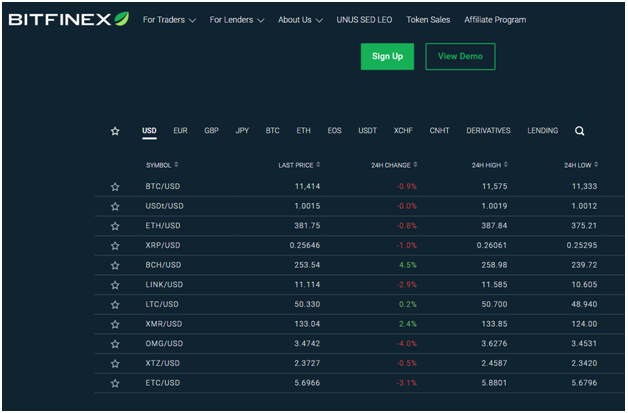 Bitfinex was the exchange platform with the highest volume until Binance came to existence. Nevertheless, it is still amongst the top three exchange platforms in terms of volume.
You should also note that it also falls under the top three for providing liquidity for XRP/BTC pairs that means it is an interesting place for anyone to exchange XRP for BTC.
Though this crypto exchange works not as smooth as Changelly or Binance as the registration process and KYC verification is quite time-consuming as it takes 15 to 20 business days. So if you want to use Bitfinex, you need to take preparation in advance. The authentication process is quite lengthy.
Finally, remember that all the above crypto exchanges have their own mobile apps at app stores be it Itunes or Android that work on any smartphone and you can easily download all these free apps. Once downloaded you can convert your BTC to XRP if you don't like the web version anymore. This is quite an advantage.  Also, note that you might lose cryptos by keeping them on exchange wallets. Always use a trusty worthy and good exchange to convert Bitcoins to Ripples.
Interested in Ripple online casinos? Then click here.